First published on http://www.shelf-awareness.com/
Who owns the stories children read? The author, the artist, the publisher, the reader? Who owns the market share? The school library, Amazon, the independent bookstore?
These were some of the questions debated yesterday by children's publishers, platform creators and data collectors at "Children's Publishing Goes Digital," a preconference to Digital Book World sponsored by Publishers Launch at the McGraw-Hill Auditorium in New York City.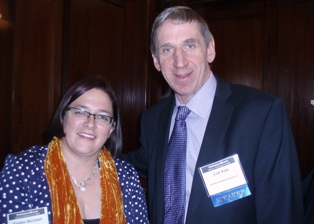 Carl Kulo of Bowker and Kristen McLean of Bookigee.
In "Sizing Up the Kid's Book Market," Carl Kulo of Bowker and Kristen McLean, CEO and founder of Bookigee, shared key findings from their November 2012 survey. Even as they noted a decline in bookstore and library influence, and friends and family now rank as the top influence, the bookstore and public library are still the best places for children and parents to discover books. Parental attitudes toward kids' e-books are still evolving. Parents show a preference toward print for their children, while parents surveyed are tracking at 42% e-book readership.
McLean said, "Teens' attitudes toward e-books are 'snapping back' to print in this survey." Though she's not sure if this will be a "continuing trend," she did point out that "Teen e-book adoption does not align with sales," a point that Kulo had emphasized at November'sPublishing Perspectives conference and reiterated yesterday. "Only 16% of YA books are being purchased by teens," Kulo said. "62% of YA books are bought by 18- to 29-year-olds." Overall, the children's book market is "extremely stable," said McLean. But online purchasing for children's books is up, so McLean asks, "If we lose that opportunity for exploration, how do we replicate that?"